Permanent solutions for moisture management, indoor air quality, and energy efficiency.
We specialize in
Sealed
Crawlspaces.

Click the contact us button to set up an estimate or just ask questions.
$ave Energy And Live In Comfort



This is why we do what we do.
Years of research conducted by Advanced Energy in Raleigh North Carolina funded by The Department of Energy has proven that "closing" or sealing the crawlspace has tremendous benefits for the home and it's occupants.
This resulted in a change in the residential building code to include them as an option when building on crawlspace foundations.
They found a significant drop in moisture levels which eliminate condensation issues, mold and mildew growth, as well as wood eating organisms and wood rot.
It also greatly reduced the termite and pest intrusion into the home and showed an energy savings of up to 18% on yearly heating and cooling costs.
That's the best part, it pays for itself through energy savings!
It's a win, win situation!
You can find this research at
Research has also proven that up to 40% of the air in the home comes from the crawlspace and with a sealed crawlspace the indoor air quality is significantly better than in a home with a crawlspace that is vented to the outside.
0ur goal is to provide our customers with these researched
and proven solutions for permanent moisture control within the crawlspace
of their home or business. These measures will help protect their investment for many years to come and can also help with it's resale value as well. We do new and existing homes including Modular, Manufactured, and Commercial buildings, and all of our work is guaranteed.
Click the RED contact us button above to set up an appointment or just ask questions.
Protect your Investment!
About the Owner
The Owner Ed Purvis
started his Weatherization career in central Fla. in the late 1980's insulating attics as well as HVAC duct repair and replacements. He attended classes at the Fla. Solar Energy Center, Cape Canaveral where he received his certification for Blower Door testing, Building diagnostics, and Strategic air sealing in residential buildings for optimum energy performance.
He moved to North Carolina in 2004 because of the moisture problems created by vented crawlspaces and worked with Building Scientists involved with the crawlspace research for the changes in the residential building code. He has been in the industry since then, 14 years sealing literally thousands of crawlspaces for very satisfied customers in both new and existing homes all over the state.
(see testimonials below)

Helping people $ave energy and live more comfortable in their home is his #1 goal, and motivation for starting this crawlspace specific company.
It is truly The Biggest Bang For Their Buck when it comes to upgrades for their home.




Moisture Problems In Vented Crawlspaces
Moisture creates a HOST of problems not only for the building and it's components but for the occupants as well.
Lets start with the "M" Word. Mold. Mold only needs a relative humidity (RH%) of 70% and above, and a wood moisture content (WMC%) of 17% and above to establish and grow.
We easily achieve 70% and higher levels here in the South for MOST of the year, so to think that the foundation vents will DRY OUT the crawlspace is INCORRECT and no, it does NOT need to BREATH as some people say. The hot humid air that comes in the vents actually have the OPPOSITE effect. The wood in the floor system absorbs this moisture because it is dryer than the air coming in (wet moves to dry) until it reaches 17% WMC and then mold starts to establish and grow. Depending on the time of year, this happens very quickly and you can have a brand new house with mold in the crawlspace before the new owners move in. (yes we have seen it happen)
There are more humid months throughout the year than there are dry months so the mold never dies it just goes dormmate and comes back when the RH gets back to 70% and the WMC to 17%.
Mold remediation always has to be done prior to sealing the crawlspace.

This is NOT uncommon and in MOST cases the mold in the crawlspace is no different than the mold in the air we breathe when we go outside, but when it grows in the crawlspace it can be brought into the living space along with the unwanted moisture laden air creating poor indoor air quality and in some cases cause individuals with sensitivities to be very uncomfortable with allergic responses to the unwanted air infiltration. .
Mold leads to wood eating organisms and wood rot, and if left to thrive in a vented crawlspace, the damage it causes can be very extensive to the building structure and floor system.
Hard wood flooring will buckle up due to this moisture, so bad in some cases that it has to be torn out and replaced costing home owners thousands. Sealing the crawlspace will allow the wood to dry out and lay back down so before you start sanding the floors, get a quote for sealing the crawlspace.
This humid air also causes condensation on cool surfaces in the crawlspace, ie: HVAC ducts, plumbing pipes etc. in the peak Summer months it is NOT UNCOMMON to see water on EVERY surface in the crawlspace, the wood, insulation, everything will be dripping with water from condensation.
Because insulation is light and constructed in layers, the weight of the water will pull it down layer by layer until it is laying on the ground. Any and all metallic fasteners, HVAC ducts, and plumbing pipes will rust and degrade prematurely, as well as any electrical outlets, light fixtures and any other electrical equipment located in the crawlspace.
Bug/Pest intrusion into the home is a problem we've battled for ever and in a vented crawlspace they thrive because there is PLENTY of moisture for their survival. Some water may come from poor drainage allowing rain water into the crawlspace, or a plumbing leak, or even water from condensation dripping off of the duct system etc. pooling on top of the vapor barrier....(if present), giving them an unlimited supply. Of course this also invites Mice, Squirrels, Snakes, Racoons and others into the crawlspace as well.
(yes we've seen all of these and then some)
If the HVAC unit and duct system are located in a vented crawlspace, it has ALOT of moisture to deal with. 40% of an air conditioners job is dehumidification so it has to deal with all of this moisture as well. This causes it to work harder than it should creating higher cooling costs in the Summer months. Condensation will form on uninsulated duct boots at the floor connections, this will allow water to get between the air barrier and the insulation barrier of the duct soaking the insulation between them causing the ducts to sag and in some cases pull completely off the boot blowing conditioned air into the crawlspace which is vented to the outside.
Poor drainage, grading, downspouts and gutters will allow rain water to sit against the foundation walls. This water will eventually move through the porous concrete and mortar entering the crawlspace as water vapor leaving mineral deposits, (white powdery substance that look like tide lines) on the foundation walls inside the crawlspace. In some cases this bulk rain water flows into the crawlspace creating bigger issues if there isn't a drain or pump to get it out.
Any Bulk water issues such as these always take priority before sealing/encapsulating any crawlspace as this is a crucial piece for its success.
There is a Proven Process for sealing crawlspaces. When it is followed every time and properly applied (no short cuts) there are No Downsides to its performance and it will last for many years. We Follow This Process Exclusively.
In fact adding this 1 single upgrade to your home will give you the Biggest Bang For Your Buck covering moisture control, pest management, indoor air quality, energy efficiency and comfort.
Sealed Crawlspaces
All of our Sealed crawlspaces are code compliant, backed by research, and come with a 30 year guarantee. We offer 6,8,10,12, and 20mil. crawlspace liners. All of the products we use are specifically designed for sealed crawlspaces and proven to work for many years. We also offer HVAC duct repair and replacement if needed.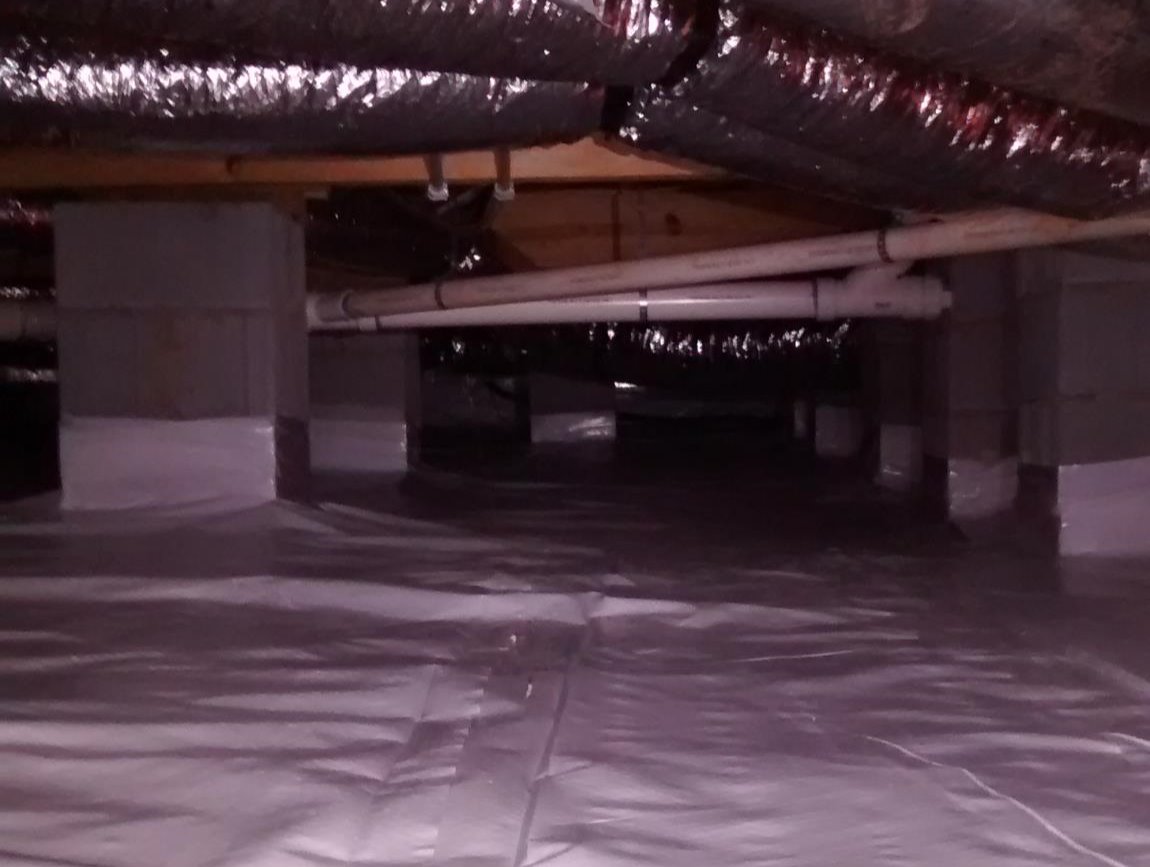 Insulation and vapor barrier replacement
We also offer insulation and vapor barrier replacement/installations as well as mold remediation and dehumidification. We install 100% vapor barriers with 6" inch landscape nails instead of flimsy wire clips, and use only non VOC Fungicides for all mold treatments and remediation. We PROPERLY install insulation so that it touches the surface being insulated ie: cutting around pipes, wires, bracings etc. so that it performs as it should.

Crawlspace drainage and sump pump installation
If you have a river running through it, we've got you covered with professional drainage and sump pump installations. Scroll down to the contact us section of the page to set up an appointment or just ask questions.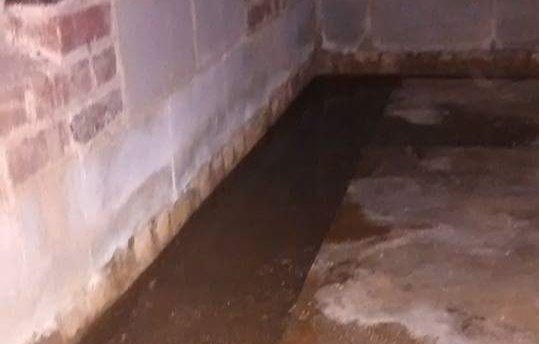 Ed was great and very easy to work with. Hire him for all of your crawlspace insulation needs. He will even fix things that are not part of the contract if he sees them or at least brings it to your attention.
5 stars!
Hamid S. March 30, 2019

I wish my husband and I could give Ed a 10 star review! I cannot begin to express how grateful we are to have found him! Not only is our basement waterproofed and sealed but he went above and beyond to keep us informed the entire time!! We highly recommend him!! Did an absolutely amazing job and great to work with!!
Thank you Ed!! 5 stars!
Heather E. January 26, 2019
Ed did a great job at educating me on crawlspace humidity and the many benefits of encapsulation. I originally was only going to do a small portion but ended up doing my entire crawlspace. They did a great job, left the job clean, and offered to come back and do a check up in a few weeks. I am very happy with their service!
5 stars!
Danny S. July 13, 2018
VERY HONEST AND DID GREAT WORK, WOULD RECOMMEND HIM TO ANYONE. VERY EFFICIENT AND KNOWS WHAT HE'S TALKING ABOUT. 5 stars!
Susan C. May 17,2018
Ed and his crew were terrific! The work is top notch and he knows more about building science and thermal properties than 99% of "experts" out there! Highly recommended! 5 stars!
Anthony P. May 15,2018
Excellent work, way cheaper than the others! Ed explained everything up front as far as expectations. He and his crew did a great job!
5 stars!
Cindy N. March 22, 2018
It's obvious that Ed has been in this business for awhile. He knows equally how to address the challenge presented most effectively, as well as how to swiftly troubleshoot any issues that arise along the way. Would recommend him to anyone for this reason, as well as for the affordability of the job.
5 stars!
Laurie B. February 8, 2018
Ed is very knowledgeable in what he does. He took the time to explain the concept of sealed crawlspaces and the many benefits over a vented crawlspace. He finished the work on time in a very professional manner. I would highly recommend Ed Purvis for crawlspace insulation projects.
5 stars!
Kasam P. September 30,2017


Ed is a great guy to work with. He is very knowledgeable in his field, up front and honest. His work is highly professional. With most contractors I spoke with, it was like they were trying to make a killing on every job. Ed's labor fee was very reasonable. An honest days work for an honest days pay. Get a proposal from Ed and from others, you will see a big difference. In the end you will see Ed is the right choice! 5 stars!
Joe B. August 15, 2017


We had water in the crawlspace and met with several contractors and decided to go with
Ed Purvis.
Ed was not only the most economical but also did a great job! I highly recommend Ed!!
5 stars!
Ajay K. March 22, 2019

I hired Ed Purvis to remediate a mold problem and seal off the crawlspace in a home that I just purchased. He charged a fraction of what other Pros quoted and the quality of work is nothing short of amazing! The crawlspace was wet, humid, moldy, and filled with water when it rained. He easily identified the cause of the problem and gave me the most thorough explanation of what my options were to fix it. In fact he went above and beyond to fix the MANY issues I was dealing with and didn't charge any extra for some additional work that was needed. Now there is no mold, the humidity levels are below normal, and the wood moisture content has dropped dramatically!!
How do I know? Simple, Ed came back out a few weeks later to check on everything!! If you're thinking about sealing your crawlspace do it!! If you do... have Ed Purvis do the work and I promise you will be as happy as I am!!
5 stars!
Brandon S. July 23, 2018
Ed was very punctual and came out quickly when we contacted him about a mold problem in our basement. He is very knowledgeable and friendly, gave us great advise, and we would to be glad to recommend his services to anyone.
5 stars!
Tom A. June 23, 2018
We would not hesitate to hire again. They did a really great job, was punctual, and completed the work as advertised.
5 stars!
Warren P. March 5, 2018
I found the owner Ed Purvis to be very knowledgeable, honest and offering the most reasonable pricing on mold remediation. Unlike other contractors encountered, he itemized in detail what services he would provide to free my crawlspace from mold/moisture and to create an environment that prevents it from happening again. He was very careful in completing the work and it was performed in a timely manner. I would highly recommend Ed and suggest to those interested to speak with Ed and hear the value he can bring to your home for a reasonable price. 5 stars!
Stan S. November 12, 2017


Small business with great communication. Explained the process well. Very fair pricing based on time, space and materials. Not just on space alone. Highly recommended. 5 stars!
Anonymous Customer review September 28,2017
Ed and his team were prompt, reasonable $, thorough and fair. Would recommend their services!
5 stars!
Douglas K. March 22,2017


Let us know what your concerns are and how we can contact you